A good quartet is like a good conversation among friends interacting to each other's ideas.
Stan Getz
(in alphabetical order)
Jeff Dingler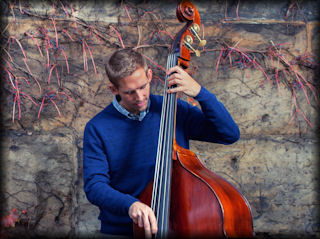 Jeff Dingler is a bassist and composer living in New York City. Born in Manhattan, and raised in New Jersey, Jeff has grown up around the New York jazz scene his whole life. Professional work in the studio and on gigs has led to playing with jazz greats such as Billy Drummond, Mike Rodriguez, Sean Jones, Brad Shepik, Rudy Royston, Rich Perry, The Nelson Riddle Orchestra, Don Friedman, Don Sebesky, Bucky Pizzarelli, David O'Rourke, Jon Saraga, and others. Additionally, his bass playing experience in pop styles has led to nationally syndicated commercial recording for the TBS network.
Jeff's concept of bass playing and performing improvised music is varied and open minded in its approach. Equally inspired by the great lineage of jazz musicians, West African music, composers such as Debussy and Steve Reich, and Balkan folk rhythms, Jeff's style of playing and writing finds a way to include all of these influences and more. He has appeared on numerous recordings, including a new record of his own compositions, Taking Root, which features Rich Perry and Brad Shepik.
» Read more
As an educator, Jeff encourages students to develop strong active listening skills as well as their own unique voice. He holds a BM from Rutgers University and an MM from NYU. Jeff is a seasoned teacher, having taught at Rutgers University, many private music studios in New Jersey, and clinic work for public schools in the tri-state area for years.
» Less
Listen to Jeff Dingler playing 'Valse' from the album 'Taking Root'
Michael Feinberg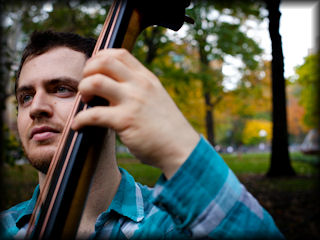 Born in Houston and raised in Atlanta, bassist, composer, bandleader Michael Feinberg is "fast approaching giant status in NYC" (LA Weekly). Since his arrival in 2009 Feinberg has worked with a myriad of jazz greats including Billy Hart, Ambrose Akinmusire, John Scofield, Jean Michel Pilc, Ari Hoenig, Kenny Werner, Lee Ritenour, Ian Froman, Vic Juris, Peter Bernstein, Dayna Stephens, Terreon Gully, George Garzone, Jeff Coffin, and Russell Gunn.
Feinberg holds a BM in studio music and jazz performance from the Frost School of Music at the University of Miami and a MM in jazz performance and composition from NYU. Feinberg has conducted clinics and masterclasses all over the world at elementary, middle, and high schools as well as universities like NYU, Belmont, Emory, UM, and CCU.
Feinberg has been the recipient of several awards and honors including winning student downbeat awards, headlining south by southwest, resident of Betty Carter's Jazz Ahead, winning the Six String Theory contest, and a 3 time semi finalist in the International Songwriting Competition.
» Read more
Feinberg has released 5 albums as a leader and has recorded on over 50 studio albums. As bass player magazine attributes "amid his compositions' tricky meters and knotty melodies, Feinberg turns in robust walking lines, spiky upright funk grooves, searching solos, and a finger twisting bop-style melody."
Feinberg is also an active studio musician, recording and producing various albums, tv show scores, film scores, and musicals.
» Less
Listen to Michael Feinberg playing 'Tutuola' from the album 'Humblebrag'
Stephen Gauci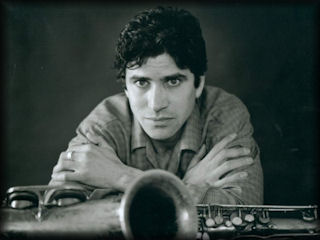 Stephen Gauci is recognized as one of the leading saxophonists on the New York City improvised music scene. He is a former student of Joe Lovano. Stephen Gauci performs with many ground breaking musicians including William Parker, George Garzone, Sabir Mateen, Tony Malaby, James Emory, Karl Berger, Kenny Wessel, Kris Davis, Tyshawn Sorey, Herb Robertson, Ben Allison, Marc Helias, Matt Maneri, Roy Campbell Jr., Daniel Carter, Steve Swell, Mike Bisio, Jay Rosen, Lou Grassi, Whit Dickey, Kirk Knuffke, and Graham Haynes. Stephen has released fifteen records as a leader. He performs throughout the United States and internationally, including concerts in Sweden, Germany, Austria, France, Hungary, Portugal, and Canada.
Stephen earned a Master of Music degree from New York University and a Bachelor of Arts in Music Performance from William Paterson University of New Jersey. Stephen Gauci has been teaching private saxophone lessons for children and adults of all ages for over 27 years. Stephen has taught saxophone at educational institutions including Drew University in Madison New Jersey, where he taught saxophone, improvisation, and jazz ensemble; The International School of Brooklyn where he taught music to children ages 3 to 7 years utilizing the "Orff" method; and the "Kulanu" after-school enrichment program in Stamford CT, where he coached teen jazz and klezmer ensembles.
» Read more
"Gauci is among the most significant tenor saxophonists to emerge in recent years." – Stuart Broomer, All About Jazz NY
"Little playing heard these days is as enigmatic as that issuing from saxophonist Stephen Gauci. His dynamic range is equaled only by his powers of invention, in both composition and its molten twin, improvisation." – Marc Medwin, All About Jazz
» Less
Listen to Stephen Gauci playing 'Warmth' from the album 'Tango While The World Burns'
Alex Goodman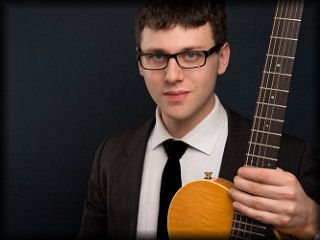 Winner of both first prize and the Public's Choice Award at the 2014 Montreux Jazz Festival International Guitar Competition, Alex Goodman has been hailed as "the next big thing in the jazz world" (CityTV News), "a definite musical voice" (Guitar International), "sophisticated and accomplished" (The Toronto Star), as well as "genius" (La Presse, Montreal). In 2013 his album "Bridges" was nominated for a JUNO (Canadian Grammy) as Contemporary Jazz Album of the Year.
Alex has toured extensively and has performed at such prestigious venues as the Kennedy Center in Washington D.C., Massey Hall in Toronto and ABC Studios in New York City. He has played with international jazz musicians such as Charles Lloyd, Eric Harland, Gerald Clayton, Dick Oatts, Ari Hoenig, Chris Speed, Tim Ries, Rich Perry, and John Riley. He has recently completed a book of solo guitar music and has also written extensively for string quartet, philharmonic orchestra, big band and jazz ensembles.
Alex is an accomplished composer with over one hundred original compositions and two film scores to his name. He was awarded the 2013 ASCAP Herb Alpert Jazz Composer Award and was a finalist for the 2014 ASCAP Morton Gould Classical Composer prize. He is releasing a book of solo guitar music in 2015 and has written extensively for string quartet, philharmonic orchestra, big band and various jazz ensembles.
» Read more
Upon completing his Bachelor of Jazz Performance at the University of Toronto he was honored as the first jazz musician to have been awarded the William and Phyllis Waters Graduating Award for the "student deemed to have the greatest potential to make an important contribution to the field of music." In addition to winning over a dozen other national and international music awards, Alex's quintet was also a finalist in the 2011 Grand Prix de Jazz competition at the Montreal International Jazz Festival. He is a graduate of the Master's program at the Manhattan School of Music and currently resides in New York City where he performs regularly as a freelance musician.
» Less
Listen to Alex Goodman playing 'Family Breakfast' from the upcoming album 'With Thanks'
Ricardo Grilli
Guitarist Ricardo Grilli, born in Sao Paulo, Brazil and based in New York city has been called by critic Brent Black: "… one of the best original talents I have come across."
He frequently performs with some of the most relevant jazz musicians today such as: Chris Potter, Chris Cheek, Aaron Parks, Joe Martin, Eric Harland, Jason Palmer, Billy Drewes, John Scofield, Jon Cowherd, Orlando Le Fleming, John Escreet, Matt Clohesy, EJ Strickland, Colin Stranahan, Julian Shore, among others and at world class venues such The Blue Note, The Iridium, The Beacon Theater, Scullers Jazz Club, The Rex (Toronto), The Side Door, Cornelia Street Café, JazzB (Brazil), Wally's Jazz Café.
In 2013 he released his first record as a leader, "If On A Winter's Night A Traveler". The album was extremely well received and featured in the 2013 NPR's Jazz Critics Poll as one of the best debut albums of 2013. Naras-Grammy voter, Arnaldo DeSouteiro, ranked Ricardo among the best guitarists and composers globally for his work on the record.
» Read more
His next record is set for release in 2016 and will feature: Aaron Parks, Joe Martin and Eric Harland.
Ricardo holds a Bachelors Degree in Guitar Performance from Berklee College Of Music and a Masters Degree in Jazz Studies from New York University.
» Less
Listen to Ricardo Grilli playing 'If On a Winter's Night a Traveler' from the album 'If On a Winter's Night a Traveler'
Paolo Lattanzi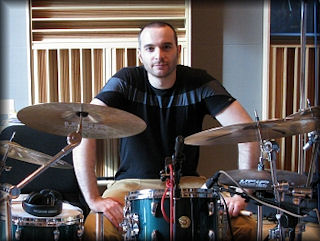 Drummer and composer Paolo Lattanzi is a graduate of Berklee College of Music (Magna Cum Laude, 2005). He has studied with masters such as Kenwood Dennard, Ian Froman, Mike Mangini, Ralph Peterson, Casey Scheuerell, Massimo Manzi, Bob Pilkington, Ken Cervenka, John Ramsay and Jon Hazilla. He has also attended Master Classes and Seminaries with Dave Weckl, Bill Stewart, Steve Smith, Steve Gadd, Jack DeJohnette, Dave Holland and Pat Metheny.
Paolo has performed in numerous venues between New England, New York and Italy including the Paradise Club, the Middle East, CBGB's, the Beehive, Smalls Jazz Club, the Lily-Pad, Caffè Vivaldi, ABC No Rio and Pianos and has performed/sat with Robin Eubanks, Simon Tedeschi, Matt Garrison, Nikolay Moiseenko, Aurelien Budynek, Marco Panascia, Ron Mahdi, Tiger Okoshi, Andy McGee, Christian Scott, Alex Terrier, Michel Reis, Evgeny Lebedev and many more.
» Read more
As bandleader and composer Paolo Lattanzi has released two internationally acclaimed recordings ('Night Dancers' in 2006 and 'Multitude' in 2010). Most notably, Multiude, recorded with the Characteristic Pitches and special guest Robin Eubanks was featured disc of the month by Italian foremost jazz magazine Musica Jazz while American magazine Jazziz describes it
"An album full of forward-leaning compositions that are uniformly appealing and often exhilarating."
 Cadence Magazine describes Paolo's drumming:
"Several of his polyrhythmic ideas are certainly quite engaging. He plays through the complexities with ease and cooks at all the right times."
Paolo has been teaching privately for a decade and has been an endorsed artist with UFIP cymbals since 2007.
» Less
Listen to Paolo Lattanzi playing 'Out There (On The Streets)' from the album 'Multitude'
Joseph Lepore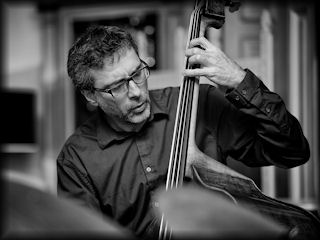 Bassist and composer Joseph Lepore was born in New York and raised in Salerno, Italy.
While in Italy, he makes his mark by playing with some of the most important musicians on the scene as well as visiting artists from abroad including Bob Dorough, Joy Garrison, George Garzone, Steve Grossman, Tom Kirkpatrick, David Liebman, Mike Maineri, Bob Mover, Romano Mussolini, Jimmy Owens, Enrico Pieranunzi, Tony Scott and Elliot Zigmund. Between 1997 and 1999 he was also part of alto saxophonist Rosario Giuliani's quartet.
After relocating to the US in 1999 he has played with various world class musicians including JD Allen, Jimmy Lovelace, Joe Lovano, Marc Copland, Eliot Zigmund, Mark Turner, Jeff "Tain" Watts, Terri Lynn Carrington, Lenny White, and Duane Eubanks.
In 2008 Joseph joins saxophone master Greg Osby and his group, with which he tours and records until 2011. The same year the State Department of the United States awards Joseph a grant to teach a six-week jazz performance workshop at the "Ecole Nationale de Musique" in Abidjan, Ivory Coast.
» Read more
In August 2010 Joseph's debut album "Journal" is released on the "Inner Circle Music" label. The recording receives great reviews from around the globe. In early 2011 he forms TrioKinesis with saxophonist Eric Person and Drummer Shinnosuke Takahashi: this collective releases the album 'TrioKinesis', in the spring of 2012. In the meantime Joseph performs with upcoming tenor saxophonist Melissa Aldana and records her second release for Inner Circle Music, 'Second Cycle'.
Joseph currently plays with guitar master Paul Bollenback and has recorded his new album 'Portraits In Space And Time', released in September 2014.
"Joseph Lepore is a fine bassist and composer who is stepping out with his first recording as a leader. This is good news for all of us listeners. Joseph has a warm and very fluid style of bass playing…Check this record out!!!" –  John Patitucci
"I've experienced something of a revelation when first playing with Joseph Lepore….He is an amazing player with great imagination and composing skills. I enjoy his music and spirit." – Marc Copland
» Less
Listen to Joseph Lepore playing 'But Not For Me' from the album 'Where or When'
Rafael Rosa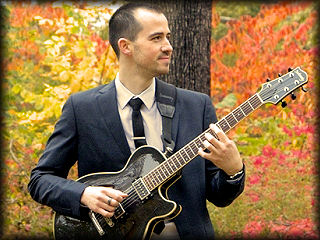 Rafael has established himself as a premier guitarist and artist since his arrival in NYC in 2011. He has performed at renowned venues such as the Blue Note Jazz Club, ShapeShifter Lab, DROM, Shrine World Music, The Bitter End, The Rainbow Room, The Metropolitan Room, 54 Below, Dizzy's Coca Cola Club and Bowery Electric. He has received rave reviews on his playing with Tony Award Winning Singer Luba Mason and her project Mixtura, The Prince Of Bollywood Jeffrey Iqbal & Unity Through Music, Cody Geil's Bon Musique, as well as R&B sensation Jarrett Cato, among others.
Rafael is an accomplished composer. Releasing his debut as a Leader in 2014, "Portrait" was co-produced by Grammy Winning Bassist/Composer John Benitez and was awarded 4 stars from both international and local publications. "Portrait" features an incredible cast of master musicians bringing together Puerto Rico's rhythms, jazz's colorful harmony, and rock's aggressive nature to form a unique and original canvas of sound.
» Read more
Born in San Juan, Puerto Rico, Rafael taught himself the guitar at age 15. He has since performed and recorded with local greats there such as Eric Figueroa, Ramon Vazquez, Edmar Colon, Jonathan Suazo, Felipe Fournier and [menos es mas], who was nominated for Best Jazz Album from ACAM with their self titled album. In August 2014, he opened for legendary Latin Jazz Icons "Timbalaye" in Puerto Rico's Ventana Al Jazz Festival.
A graduate from New York University's Steinhardt School of Music Graduate Jazz Performance Program, he studied and performed with some of the city's top musicians including Kenny Werner, Jean Michel Pilc, John Scofield, Stefon Harris, Alan Ferber, Wayne Krantz, Peter Bernstein, Miguel Zenon and John Benitez. During his time there, he taught undergraduates as part of the faculty as well as being invited to perform with the Afro-Peruvian Group "Karachacha" and guest artist Dave Pietro as part of the 2013 Jazz Educators Network Annual Conference (JEN) in Atlanta, Georgia.
He is currently part of the Guitar Faculty at the Brooklyn Music School and maintains a private teaching studio in New York City as well as around the world through Skype. He is also putting the finishing touches on his new music quartet "Axiomatic" as well as working on his second album, set to come out in 2016.
» Less
Listen to Rafael Rosa playing 'Bomba Oscura' from the album 'Portrait'
Jonathan Saraga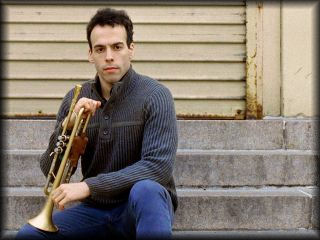 Trumpeter Jonathan Saraga has been said by All About Jazz to possess the "wisdom and maturity of veterans more than twice his age," and that "…his chops, lust for musical life and don't-box-me-into-a-stylistic-corner mentality make him seem like the musical offspring of trumpeters Dave Douglas and Ambrose Akinmusire."
In addition to having won the 2007 International Trumpet Guild Jazz Solo Competition, Jonathan competed as one of five finalists in the 2009 Carmine Caruso International Jazz Trumpet Competition, and participated in the 2010 School for Improvisational Music Summer intensive program in NYC, as well as the 2015 Banff Workshop in Jazz and Creative Music in Alberta, Canada.
He has been featured as part of the Night Artist Series at the Bar Next Door, and as part of the Emerging Players Series for Festival of New Trumpet Music, and has been performing regularly throughout NYC at venues such as The Douglas St. Music Collective, Seeds, the Shapeshifter Lab, and Smalls Jazz Club with artists like Scott Lee, Jeff Hirshfield, Matt Brewer, and Gerald Cleaver. Saraga has worked in the bands of Charles Blenzig, Trevor McQueen, Eric Bergen, Orrin Evans, Jason Marshall and the Grammy-winning Afro-Latin Jazz Orchestra to name a few, and has performed at the Metropolitan Museum of Art, Carnegie Hall, the Barclay's Center, Symphony Space, and many other renowned venues throughout NYC. He has toured nationally as a lead trumpeter for various off-Broadway productions, has toured internationally as well, having played the Putra World Trade Center in Malaysia, as well as many venues in Canada, Europe, the Caribbean, and Haiti.
Jonathan holds both Bachelor and Master of Music degrees from SUNY Purchase.
Listen to Jonathan Saraga playing 'Rampant Teddy Bear' from the album 'First Vision'
Julian Shore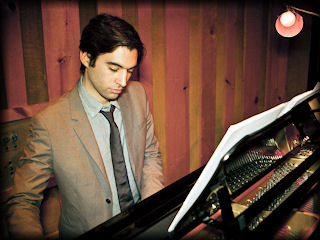 Julian Shore has been called "a pianist/composer who beyond the obvious elegance of his playing has a clear sense of the bigger artistic picture" (Ottowa Citizen). An "extremely precocious, serious musician" (JAZZIZ) he "riffs and waxes with a sense of space usually reserved for more veteran players." (DownBeat)
Shore was awarded a full scholarship to Berklee College of Music where he entered in Fall 2005. During his time there, under the mentorship of Danilo Perez, he performed in a young musicians ensemble in the Panama Jazz Festival, learning alongside Wayne Shorter, Brian Blade and many others.
He graduated in 2009 and shortly after moving to New York, had a brief stint with singer Gretchen Parlato, touring with her band in early 2010 and then performing at the Stockholm Jazz Festival with her later that year. Since then he has continued to appear as both leader and sideman in New York where he is based, and across the globe.
He has had the opportunity to perform and/or record with musicians such as Kurt Rosenwinkel, Gretchen Parlato, Gilad Hekselman, Kendrick Scott, Marcus Gilmore, Chris Cheek, Ferenc Nemeth and Mark Giuliana, among many others.
Listen to Julian Shore playing 'Which Way Now' from the album 'Which Way Now'
Will Slater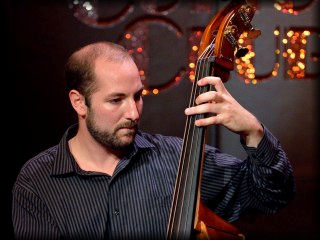 Will Slater, a graduate of the New England Conservatory of Music, is an experienced bass player, performing regularly in New York and New England. He has performed with Jerry Bergonzi, George Garzone, Peter Bernstein, Greg Osby, Joe Hunt, Bob Moses, Mark Guiliana, Jeff Hershfield, Dave Shnitter, Phil Grenadier, Tim Miller, Vardan Ovsepian, Rob Schniederman, Jason Palmer, Leo Genovese, Yoko Miwa, and many other artists at venues such as The Blue Note, Smalls, Cornelia Street Café, 55 Bar, Scullers, the Regatta Bar, the Beehive, Wally's, Jordan Hall, the Ryles Jazz Cub and the Lily Pad. He has recorded with Jerry Bergonzi, the Phil Grenadier trio, the Yoko Miwa trio, and the Joe Delaney trio. In 2009 Will was a finalist in the Thelonious Monk competition. Will has also appeared internationally at such festivals as the Panama and Aspen jazz festivals and has toured in Japan and Eastern Europe in Poland, Czechoslovakia, and Hungary.
Will has taught students and Master Classes at all levels. From 2008-2103 he was the primary bass teacher at the University of Massachusetts. He has also worked as a rhythm section instructor at Berklee College of Music from 2008-2014 and instructed master classes in Panama and Japan.
Listen to Will Slater playing 'Doin De Gren' from the album 'Standards'